Driving Directions to the Burlington Flats Fish & Game Club
Our club is located in northwestern Otsego county, about 45 minutes south of Utica and 25 minutes west of Cooperstown. We're located on a hillside overlooking the town of Burlington Flats. The street address is 615 Louie Dickinson Rd., Edmeston, NY 13335 (note- although the club is administratively/technically located in Edmeston, its actually closer to Burlington Flats).
Recommended Driving Directions
GPS and online mapping programs generally provide the shortest/fastest route. Whichever means or directions you choose, be advised that the last portion will be on unpaved dirt/gravel roads. These programs can also take you via roads that may be difficult for non four wheel drive vehicles to pass. With this in mind, we've come up with the following "easy" directions...this will help anyone reach our club via the easiest/most passable route:
Use your GPS, online mapping program or a paper map to get to the intersection of Hwy 51 and Gardner Road in Burlington Flats (Coordinates: 42°44'42.64"N 75°10'58.47"W, Google Maps | Bing Maps | Mapquest). If using a paper map, you'll find this location @2 miles north of the intersection of Hwys 51 and 80. You should see a sign pointing the way to the club.


Turn onto Gardner Road. Follow it for 0.6 miles and turn right onto Fish & Game Road (you will see Mayne's Sporting Goods at that intersection). You should also see another sign pointing the way to the club.


Follow Fish & Game Road for 0.8 miles past the houses and through the farm area (be mindful of people, animals and farm equipment) and up the hill. Note that the road name changes to Louie Dickinson Road along the way (this is where Edmeston, NY starts).


Our club is at the top of the hill on the right. The main entrance is well marked by a large sign. Note- if you are coming for F-Class, do not turn into the main entrance. Instead, drive past the club and take the next small road on your right.
Winter Driving Warning
To help you arrive safely during winter months, we recommend you use the directions above. We realize that some folks will still prefer to do things their own way. We advise those folks to use extreme caution when consulting online mapping programs and GPS during winter/early spring months. This is partly because of spotty GPS coverage and partly because you could be directed to approach our club from the west on Louie Dickinson Road.
This approach can be dangerous during winter months: The section of Louie Dickinson Road just past our club house is a seasonally limited use highway which is not maintained between 01 November and 01 May. During heavy winter weather, this can be problematic due to the lack of plowing, the steep incline and related road wear. This can even pose a problem for four wheel drive vehicles. Avoid this route. Please use the above directions instead.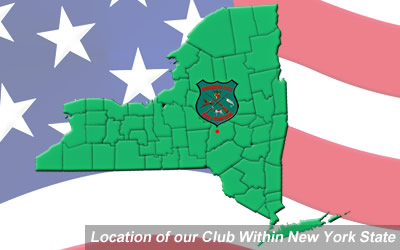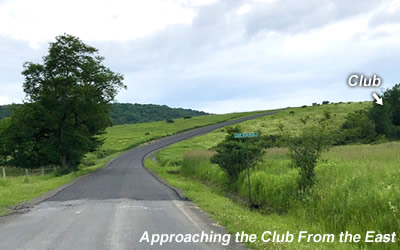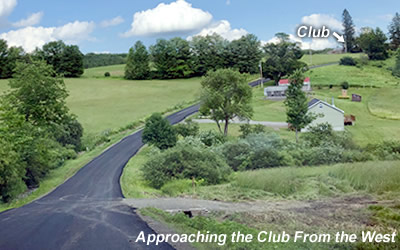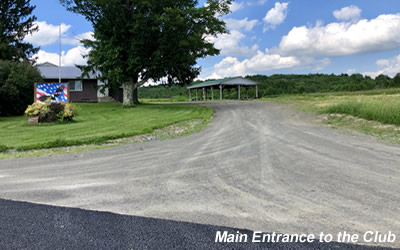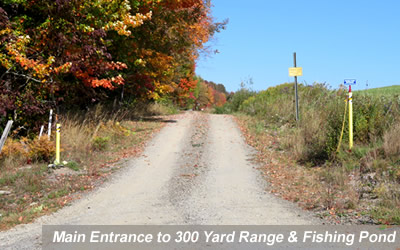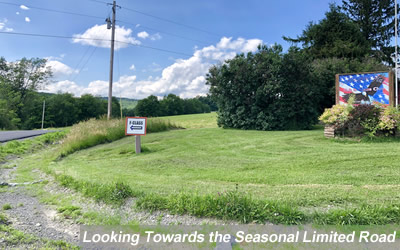 GPS & Online Mapping Information
Address: 615 Louie Dickinson Rd., Edmeston, NY 13335
GPS Coordinates: 42.739714, -75.201315
Online Maps: Google Maps | Bing Maps | Mapquest